HSC Hindi Paper 2023 March – Maharashtra Board | Download Free Pdf
HSC Hindi Paper 2023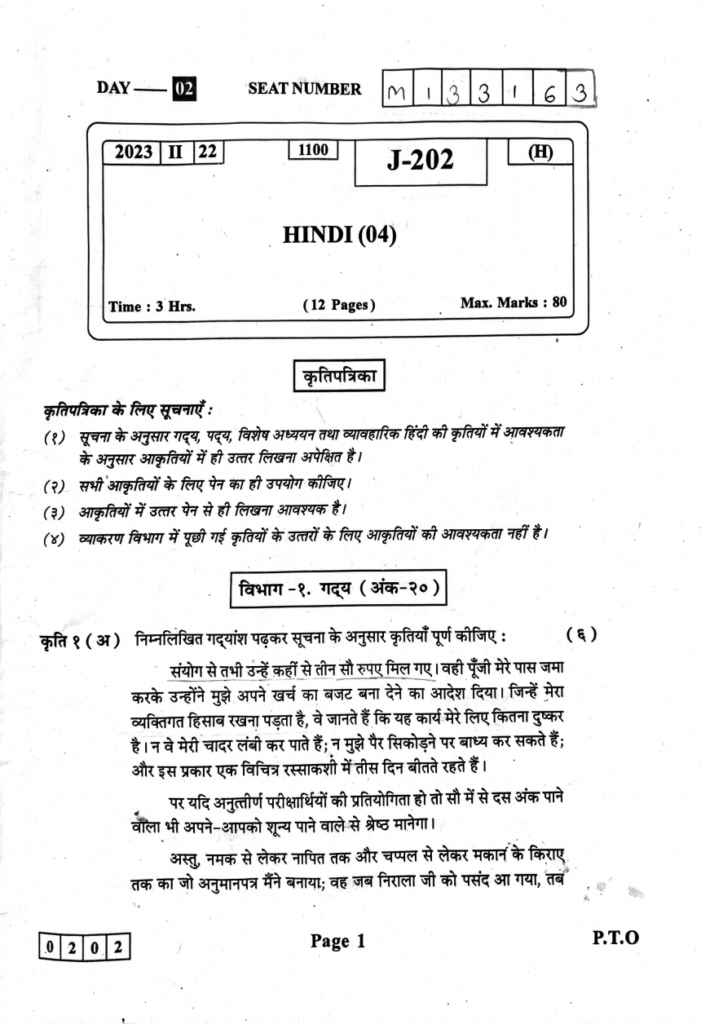 Download the Complete Question Paper from the below link
Benefits of solving old Question Papers
Solving the previous Maharashtra Board question paper has so many benefits, some of which are stated below:
Helps in understanding the exam pattern: Understanding the exam format is made easier by working through prior test questions, which will also give you a sense of the format, scoring system, and types of questions that are regularly asked. You'll be able to better prepare and have a better chance of getting good grades as a result.
Identifies important topics: Important topics can be found by looking at previous exam questions. These topics and chapters are those that are regularly tested in tests. This will help you save time and direct your preparation toward important topics.
Improves time management: Old test questions can be solved to help you become more adept at managing your time. You'll discover how to set aside time for each section and answer, which will enable you to finish the paper quickly.
Increases self-assurance: Resolving previous test questions will increase your self-assurance and decrease exam tension. You will become familiar with the format of the test and be ready for it.
Revision support: One efficient technique to review the syllabus is to solve old exam questions. You will be better able to recall crucial ideas and formulas as well as identify your areas of weakness.
Overall, working through old Maharashtra Board exam questions is an excellent approach to getting ready for the exam and increasing your chances of getting good scores.
| | |
| --- | --- |
| Textbook Solutions of 12th Commerce (All Subjects) | Click Here |
| Free pdf of 12th Commerce Textbooks | Click Here |
| 12th Commerce IT MCQ Preparation (Online Test) | Click Here |
| 12th Commerce Paper Pattern and Chapter Wise Marks Distribution | Click Here |
| Sample Paper of 12th Commerce for Practice | Click Here |
| Solved Sample papers of 12th Commerce to improve Paper Presentation | Click Here |
| Old Question Papers of 12th Commerce with solution (All Subjects) | Click Here |