Difference Between Planning Commission and NITI Aayog | Free Economic Blogs
Difference Between Planning Commission and NITI Aayog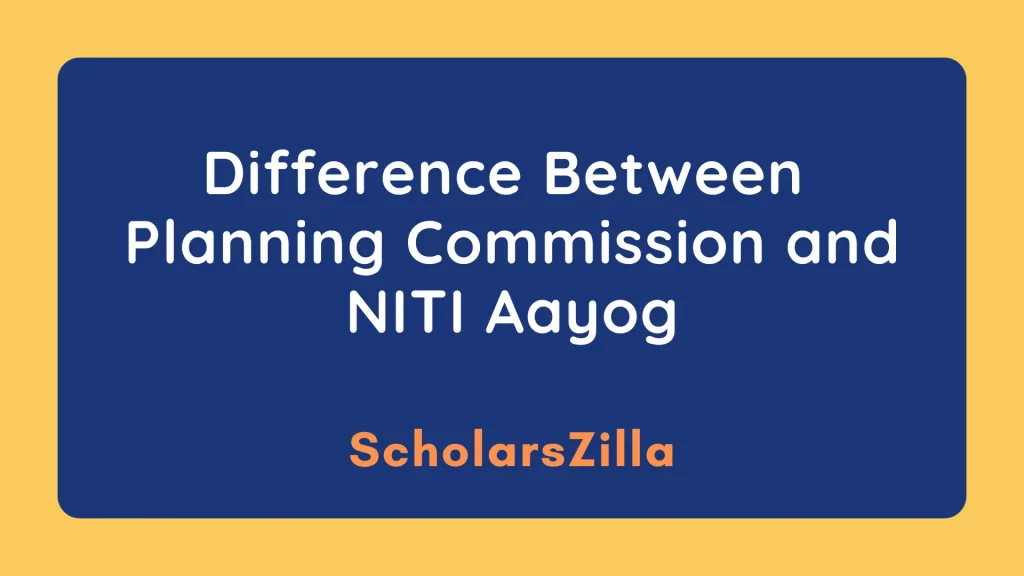 | | |
| --- | --- |
| Planning Commission | NITI Aayog |
| 1) Planning Commission was established on 15th March 1950. | 1) NITI Aayog was established on 1st January 2015. |
| 2) Planning Commission enjoyed the powers to allocate funds to Ministry and State governments. | 2) NITI Aayog is an advisory body or a think tank that performs the function of allocation of funds. |
| 3) Role of states was restricted to the National Development Council (NDC) and annual interaction during Plan meetings. | 3) State governments are expected to play a more significant role. |
| 4) Secretaries or member secretaries were appointed through the usual process. | 4) Secretary is known as CEO, to be appointed by the Prime Minister. |
| 5) Planning Commission had no provision for part-time members. | 5) NITI Aayog has a number of part-time members, depending on the need from time to time. |
| 6) Planning Commission had a Chairperson, a Member Secretary, and full-time members. | 6) NITI Aayog comprises of Chairperson, Vice-Chairperson, Full-time members, Part-time members, Ex-officio members, and CEO of Secretary Rank. |
| 7) NITI Aayog is only a think tank and does not have the power to frame policies. | 7) NITI Aayog is only a think tank and does not have the powers to frame policies. |
The Planning Commission:
The Planning Commission, which was established in 1950, was a top authority tasked with creating Five-Year Plans to direct the country's economic and social development. The main goal was to effectively deploy resources and achieve targeted growth rates across multiple industries. The Prime Minister presided over the Planning Commission, which also comprised other Cabinet members and gave them significant sway over decisions about public policy.
Key Features:
a. Centralized Planning:
The Planning Commission adopted a centralized approach to planning, with the central government predominating in resource allocation and policy formulation.

b. Plan Schemes:
The development and implementation of several plan schemes that intended to solve certain developmental difficulties across sectors were the main focus of the study.

c. Socio-economic Focus:
The Commission placed a strong emphasis on resolving social and economic inequalities and concentrated on
NITI Aayog Full-Form (National Institution for Transforming India)
The Twelfth Five Year Plan ended on 31st March 2017, which was extended by 6 months (4th Oct 2017) for enabling ministries to complete their appraisals. NITI Aayog, introduced in 2015 aimed at expanding the role of the states, making the state's role more positive in collaboration with the Centre.
The formation of NITI Aayog was an innovative and remarkable step to reinforce the principles of federalism and decentralization of power, It also aims to accelerate economic growth and development. The resolution of NIT Aayog was sanctioned on 1st January 2015, but its actual execution started after the completion of the 12th five-year plan.
Key Characteristics:
a. Cooperative Federalism:
The NITI Aayog promotes the cooperative federalism principle, assuring active engagement and collaboration with state governments in the formulation and implementation of policies.

b. Bottom-up Approach:
NITI Aayog uses a bottom-up approach as opposed to the centralized planning of the Planning Commission, encouraging states to propose and carry out development initiatives that are specific to local requirements.
c. Think tank for policy:
NITI Aayog serves as a think tank, doing research, making suggestions for policy, and encouraging innovation and best practices.
Conclusion:
In conclusion, the shift from the Planning Commission to NITI Aayog indicates a substantial change in the framework for planning India's development. NITI Aayog's cooperative federalism and bottom-up methodology seek to advance more inclusivity and decentralization in the creation of policies.
While the Planning Commission's centralized planning was crucial in guiding India's early development, the flexibility and think-tank structure of NITI Aayog present fresh chances for solving new problems and promoting balanced growth throughout the country.