Download 12th Commerce Maharashtra Board Textbooks for Free – 2023-24
12th Commerce Maharashtra Board Textbooks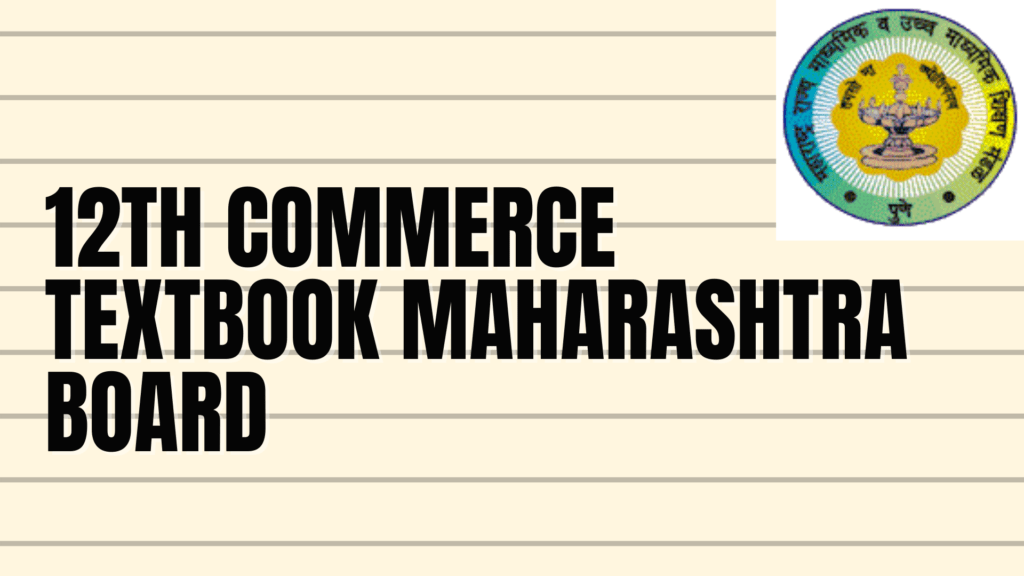 12th Commerce Maharashtra Board Textbooks Now Available on Our Website!
Are you a student pursuing 12th Commerce under the Maharashtra State Board? We have some great news for you! We are delighted to announce that you can now access the Maharashtra Board's 12th Commerce textbooks for free on our website.
12th Commerce Maharashtra Board Textbooks
On our website, we believe in promoting education and making it accessible to everyone. We understand the importance of having easy access to study materials, especially textbooks, which play a crucial role in a student's academic journey. With that in mind, we have made it our mission to provide students with the resources they need to excel in their studies.
Now, you no longer have to worry about the hassle of finding physical copies of textbooks or spending a fortune on purchasing them. Our website offers a convenient and cost-effective solution by offering free downloads of 12th Commerce Maharashtra Board textbooks.
Here's why you should take advantage of this incredible opportunity:
Free of cost: We believe that education should be accessible to all, regardless of financial constraints. Our textbooks are available for free download, allowing you to save money while acquiring the necessary study materials.
Easy accessibility: Gone are the days of scouring bookstores or libraries in search of the right textbooks. Our website provides a user-friendly interface, enabling you to download the textbooks with just a few clicks.
Comprehensive collection: Our collection includes all the subjects and topics covered in the 12th Commerce Maharashtra Board curriculum. Whether you need textbooks for Accountancy, Economics, Organization of Commerce, or any other subject, we've got you covered.
Convenience: By downloading the textbooks from our website, you can access them anytime, anywhere, and on any device. Whether you prefer studying on your laptop, tablet, or smartphone, our textbooks will be readily available for your convenience.
To access the 12th Commerce Maharashtra Board textbooks read the complete post.
We are committed to supporting students like you in their educational journey. By providing free access to textbooks, we aim to empower you with the necessary resources to excel academically. However, we encourage you to make the most of these materials by dedicating time to study and putting in your best effort.
Maharashtra State Board Books for 12th Price List (Commerce)
Subject
Price
Book-keeping and Accountancy
212/-
Economics
65/-
Mathematics and Statistics I
Mathematics and Statistics II
114/-
103/-
Organisation of Commerce and Management
102/-
Secretarial Practice
106/-
Co-operation
108/-
English
104/-
Information Technology
98/-
Check out other posts related to the 12th Commerce
| | |
| --- | --- |
| Textbook Solutions of 12th Commerce (All Subjects) | Click Here |
| Free pdf of 12th Commerce Textbooks | Click Here |
| 12th Commerce IT MCQ Preparation (Online Test) | Click Here |
| 12th Commerce Paper Pattern and Chapter Wise Marks Distribution | Click Here |
| Sample Paper of 12th Commerce for Practice | Click Here |
| Solved Sample papers of 12th Commerce to improve Paper Presentation | Click Here |
| Old Question Papers of 12th Commerce with solution (All Subjects) | Click Here |
Learn Many topics of 12th Commerce From our Youtube Channel Click Here.
Textbooks of Science and Art 12th Maharashtra Board

Click Here
You Can Learn Many Chapters from our playlist.
FAQs related to the 12th Commerce Maharashtra board?
What are the subjects in the 12th Commerce Maharashtra Board?
Book-Keeping and Accountancy, Mathematics, Economics, Organisation of Commerce and Management, Secretarial Practice, English, Information Technology, Co-operation etc.
How many subjects are there in 12th Commerce in Maharashtra?
There are 6 subjects, You need to choose 6 subjects from many optional subjects.