MCOM Subjects – Download Free Textbooks – Mumbai University | Scholarszilla
MCOM Subjects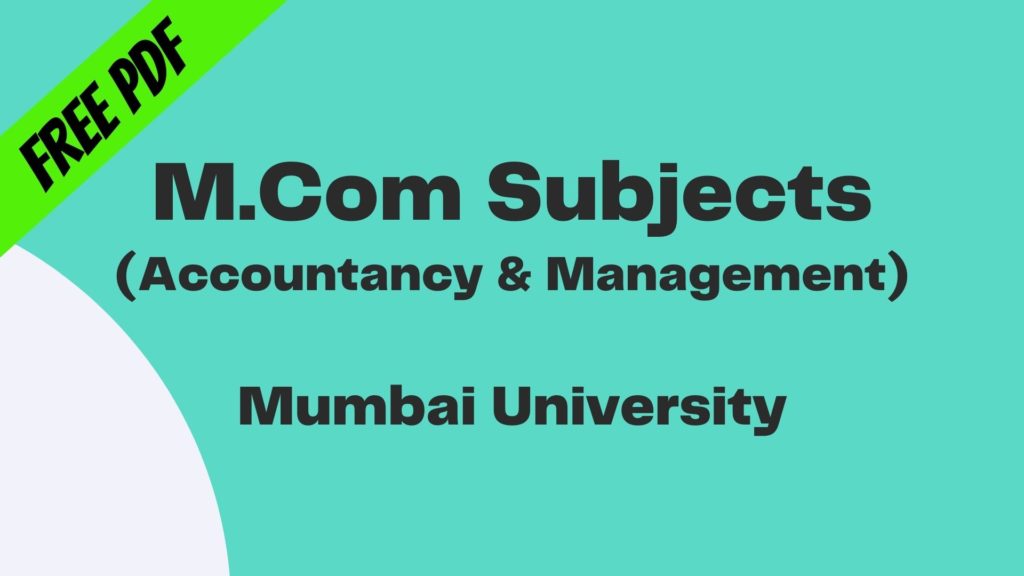 A Master's of Commerce in Advanced Accountancy and Business Management abbreviated as M.Com degree is two years spread over four semesters postgraduate master's degree imparted in regular mode and Distance mode by Mumbai University. In, M.Com – Advanced Accountancy, the focus is on corporate accounting, taxation, and strategic finance.
However, to solve the needs of the managerial cadre in business and industry, a course on strategic management and research methodology is taught to the learners. Master in Commerce (M.Com) is itself a specialized post-graduate degree programme to prepare an individual for a career in Accounting and Finance in the corporate sector as well as a basic qualification to enter into the teaching profession. M.Com serves as an essential pre-requisite for pursuing a Doctorate study, PhD degree, focusing on Niche areas, emerging accounting and management fields.
MCOM Subjects
MCOM has 4 subjects.
First Year subjects are common for Accountancy and Management.
M.Com Sem 1 Subjects
Economics for Business Decisions
Business Ethics and Corporate Social Responsibility
Cost & Management Accounting
Strategic Management
M.Com Sem 2 Subjects
Corporate Finance
E- COMMERCE
Macro Economics
Research Methodology
M.Com Sem 3 Subjects (Accountancy)
1)
2)
3)
Any three subjects from the below list
Advanced Financial Accounting
Corporate Financial Accounting
(Skill based) : Financial Management
Direct Tax
Financial Services
4) Project Work – I
M.Com Sem 3 Subjects (Management)
1)
2)
3)
Any three subjects from the below list
Human Resource Management
Rural Marketing
Entrepreneurial Management
Marketing Strategies and practices
Organizational Behaviour
4) Project Work – I
M.Com Sem 4 Subjects (Accountancy)
1)
2)
3)
Any three subjects from the below list
Supply chain management and logistics
Advertising and Sales Management
Retail Management
Tourism Management
Management of Business Relations
4) Project Work – I
M.Com Sem 4 Subjects (Management)
1)
2)
3)
Any three subjects from the below list
Advanced Auditing
Indirect Tax
International Financial Reporting Standards
Personal Financial Planning
Financial Journalism
4) Project Work – I
M.Com Books in pdf – Download