Structure of NITI Aayog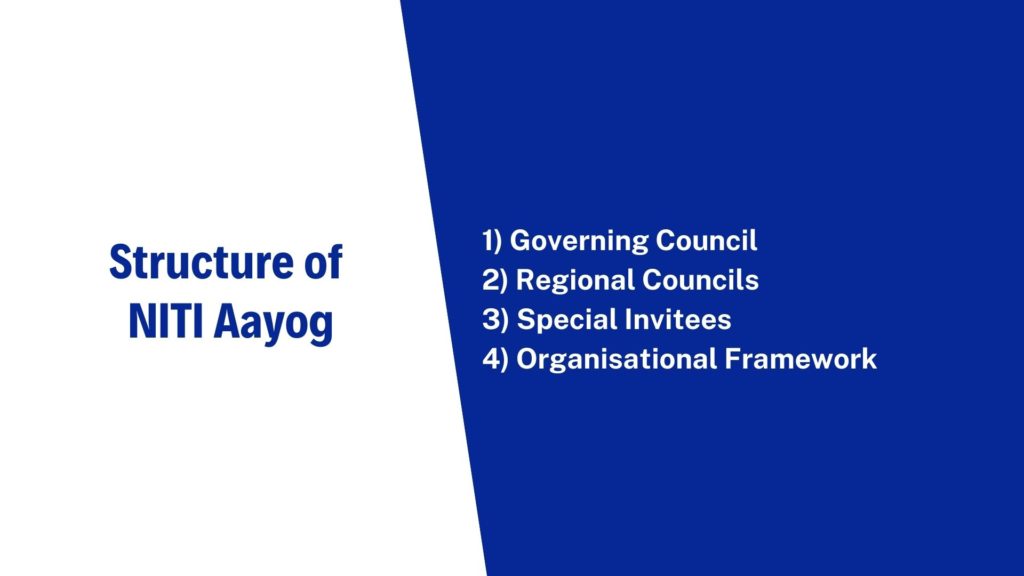 Structure of NITI Aayog
The Resolution dated 1st January 2015 and its subsequent amendment dated 16th February 2015, provides for the structure of NITI Aayog as follows
1) Governing Council
Comprising of the Chief Ministers of all States and Governors of Union Territories.
2) Regional Councils
These would be formed to address specific issues and contingencies impacting more than one state or region.
3) Special Invitees
These would include experts, specialists, and practitioners with relevant knowledge who will be nominated by the Prime Minister.
4) Organisational Framework
• Chairperson: Prime Minister of India
• Vice-Chairperson: To be appointed by the Prime Minister.
Full-time members – 5
Part-time members – 2
• Ex-Officio Members: Maximum of 4 members of the Union Council of Ministers to be nominated by the Prime Minister.
• Chief Executive Officer (CEO): To be appointed by the Prime Minister for a fixed tenure, in the rank of Secretary to the Government of India.
• Secretariat: As deemed necessary.
NITI Aayog Full-Form (National Institution for Transforming India)
The Twelfth Five Year Plan ended on 31st March 2017, which was extended by 6 months (4th Oct 2017) for enabling ministries to complete their appraisals. NITI Aayog, introduced in 2015 aimed at expanding the role of the states, making the state's role more positive in collaboration with the Centre. The formation of NITI Aayog was an innovative and remarkable step to reinforce the principles of federalism and decentralization of power, It also aims to accelerate economic growth and development. Resolution of NIT Aayog was sanctioned on 1st January 2015, but its actual execution started after the completion of 12th five-year plan.
Think-Tank Functions
As a premier policy 'Think-tank' of the Government of India, NITI Aayog aims to evolve a shared vision of national development with the active involvement of states. It fosters cooperative federalism through structural support and policy guidance to the states on a continuous basis.
Think-tank is a group of experts who are gathered together by an organisation, especially by a Government in order to consider various problems, try and work out ways to solve them.
Following are the Pillars of NITI Aayog
1) Vision Document of India.
2) Appraisal Document of 12th five-year Plan.
3) Transforming India Lecture series organized by NITI Aayog.
4) Doubling of Farmers' Income.
5) Outcome Budget and Output-Outcome Framework.
6) Global Entrepreneurship Summit 2017
7) Launching of Programme to transform identified aspirational districts.