NITI Aayog Functions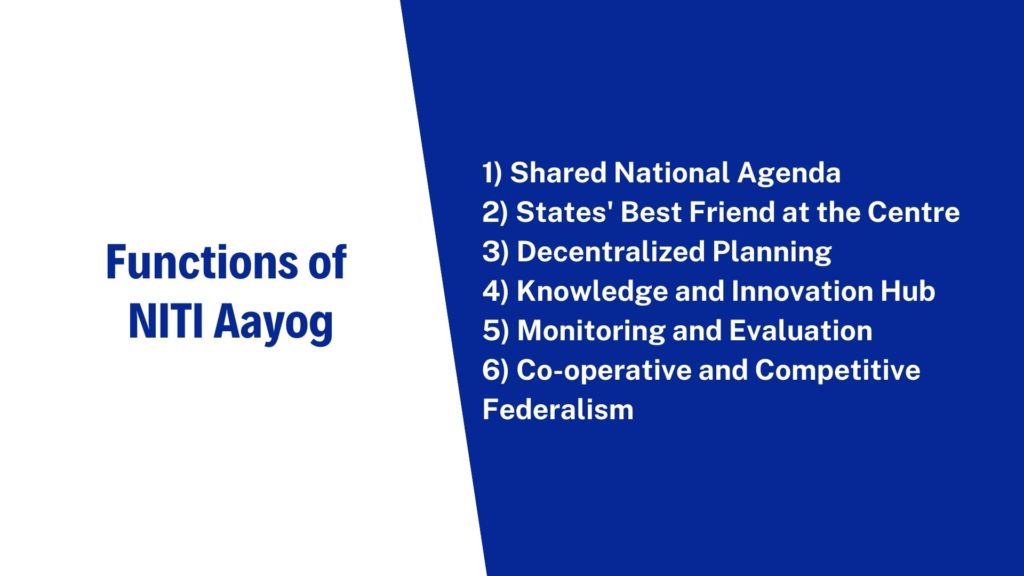 NITI Aayog Functions
1) Shared National Agenda
Evolves a shared vision of national development priorities and strategies with the active involvement of states. This will provide a framework of 'National Agenda' for the Prime Minister and Chief Ministers to implement.
2) States' Best Friend at the Centre
Supports states in addressing their own challenges, building on strengths and comparative advantages. This will be through various means such as co-ordinating with Ministries, championing their ideas at the centre, providing consultancy support, and building capacity.
3) Decentralized Planning
Restructuring the planning process into a bottom-up model, from village-level i.e. local government to national level or central government.
4) Knowledge and Innovation Hub
Be an accumulator as well as a booster of research and best practices on good governance, through a State-of-the-art Resource center that identifies, analyses, shares, and facilitates replication of the same.
5) Monitoring and Evaluation
Monitor the implementation of policies and programmes and evaluate their impact through rigorous tracking of performance metrics and comprehensive programme evaluations. This will identify weaknesses and bottlenecks for necessary course correction, enable date-driven policy-making, encourage greater efficiency and effectiveness.
6) Co-operative and Competitive Federalism
Be the primary platform for operationalizing cooperative federalism, enabling states to have active participation in the formulation of national policy and achieving time-bound implementation of quantitative and qualitative targets through the combined authority of the Prime Minister and Chief Ministers of the states.
7) Others Functions
• Inter consultancy
• Conflict Resolution
• Technological upgradation
NITI Aayog Full-Form (National Institution for Transforming India)
The Twelfth Five Year Plan ended on 31st March 2017, which was extended by 6 months (4th Oct 2017) for enabling ministries to complete their appraisals. NITI Aayog, introduced in 2015 aimed at expanding the role of the states, making the state's role more positive in collaboration with the Centre. The formation of NITI Aayog was an innovative and remarkable step to reinforce the principles of federalism and decentralization of power, It also aims to accelerate economic growth and development. Resolution of NIT Aayog was sanctioned on 1st January 2015, but its actual execution started after the completion of 12th five-year plan.
Think-Tank Functions
As a premier policy 'Think-tank' of the Government of India, NITI Aayog aims to evolve a shared vision of national development with the active involvement of states. It fosters cooperative federalism through structural support and policy guidance to the states on a continuous basis.
Think-tank is a group of experts who are gathered together by an organisation, especially by a Government in order to consider various problems, try and work out ways to solve them.
Following are the Pillars of NITI Aayog
1) Vision Document of India.
2) Appraisal Document of 12th five-year Plan.
3) Transforming India Lecture series organized by NITI Aayog.
4) Doubling of Farmers' Income.
5) Outcome Budget and Output-Outcome Framework.
6) Global Entrepreneurship Summit 2017
7) Launching of Programme to transform identified aspirational districts.