There are 6 subjects in the 11th commerce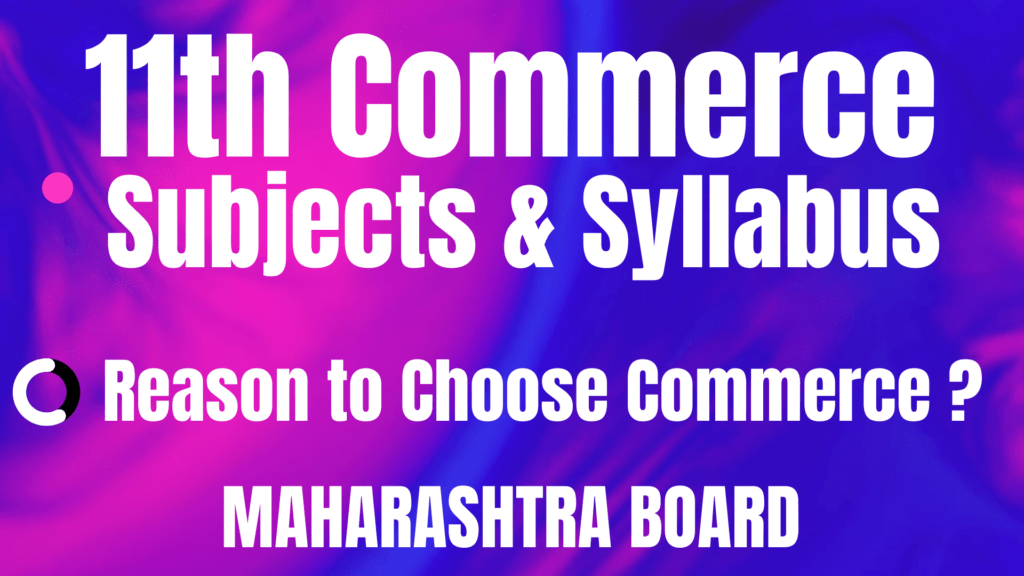 11th Commerce Subjects Maharashtra Board
The 11th standard Commerce stream students in Maharashtra follow the syllabus set by the Maharashtra State Board of Secondary and Higher Secondary Education (MSBSHSE).
The following are the subjects covered in Maharashtra's Commerce stream's 11th standard:
English
Marathi / Hindi / Urdu / Gujarati (as per the student's choice)
Economics
Organization of Commerce and Management
Book Keeping and Accountancy
Mathematics or Secretarial Practice
Information Technology. (optional with languages mentioned in point 2)
English
The reading, writing, and speaking abilities of the students are improved in this course. Grammar, comprehension, creative writing, and literature are all covered in the curriculum.
Marathi, Hindi, Urdu, or Gujrati (depending on the student's preference)
The purpose of this course is to raise the student's level of competency in the chosen language. Literature, understanding, and grammar are all covered in the curriculum.
Economics
The distribution of finite resources by people, groups, and governments is the subject of economics. This course's syllabus covers both microeconomics and macroeconomics, which addresses issues like supply and demand, market dynamics, inflation, and economic expansion.
Organization of Commerce and Management (OCM)
Trade, banking, insurance, and advertising are just a few of the topics covered in this course.  The curriculum also includes lessons on subjects like business organizations and human resource management.
Book Keeping and Accountancy
In this course, students will learn the fundamentals of bookkeeping and accounting, including double-entry bookkeeping, and financial statements of profit and non-profit concerns.
Mathematics
All streams teach mathematics because it is an essential topic. Topics including algebra, geometry, trigonometry, and probability are covered in the course syllabus.
Information technology
This course covers the fundamentals of computer science, including data management, programming, and computer hardware and software. Additionally covered in the course are subjects like SEO, cybersecurity, and database management.
These courses prepare students for higher study in business and other related fields by providing them with a strong foundation in management and commerce.
Maharashtra State Board 11th Books pdf free Download
Click Here
Is commerce good for the future?
Yes, of course. Commerce is a very popular and no.1 stream among students.
Commerce is a stream that provides you with a number of career options that other streams lack.
After choosing commerce as your stream, you get a wide career option before you.
You can go for CA(Chartered accountant) just after your class 12th, and mind you, this is one of the highest rewarding career options. This profession is regarded as very prestigious in our society as well.
You may go for management through the route of either a BBA or MBA. I suggest everyone pursue MBA if they want to make their career in the Management sector.
If you want to make your career after studying just one or two years in any professional course, then Commerce is the best stream, I assure you.
Because there is a plethora of short-duration professional courses for commerce students in the field of accounting, tally, computer accounting, share market, financial accounting, marketing, etc.
So Commerce is a very good stream for future prospects. If you desire to know how a country runs, study commerce.
The student's future academic and professional prospects may be impacted by the stream they choose in the 11th grade. Students interested in careers in business, finance, economics, and related subjects generally choose the Commerce stream.
A solid grasp of business principles and the subject of commerce can be helpful in a number of different industries as it gives numerous prospects for growth and success. A solid foundation in topics like economics, accounting, and mathematical skills that are necessary in many business and financial careers—is given to students in the commerce stream.
Having said that, it's crucial to remember that there are other routes to success in addition to the Commerce stream depending on their interests and abilities, a student can pursue. When choosing which stream to pursue, students should take into account their personal strengths, interests, and aspirations.
What is ultimately regarded as "good" for the future will rely on a variety of elements, including the student's interests, skills, and career objectives. Nevertheless, the Commerce stream can give students a solid foundation of knowledge and abilities that can be useful in a range of fields and occupations.