Reduced Syllabus of SP Class 12 (free Pdf) | Maharashtra Board 2021-22
Reduced Syllabus of SP Class 12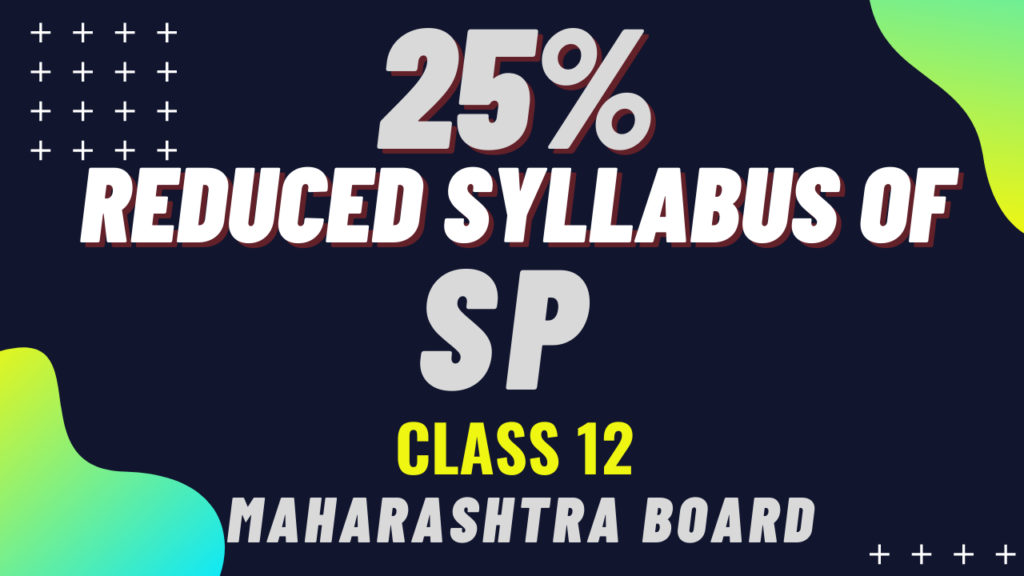 Reduced Syllabus of SP Class 12: Check Deleted Syllabus of Maharashtra State Board Class 12 (2021-22). Due to COVID-19 pandemic, Maharashtra State Board Class 12 Syllabus 2021-22 has been reduced by 25% for various subjects of Science, Commerce & Arts stream. Get complete details now.
Here in this article we have uploaded the Maharashtra board HSC syllabus 2021. Maharashtra 12th Board syllabus helps learners in planning a better strategy for the 12th exam 2022 Maharashtra board. Candidates preparing for the HSC board exam should prepare the entire Maharashtra board 12th syllabus 2021 before the board exams.
Below Students can download the Reduced Syllabus of Class 12th Maharashtra Board PDF Download 2021-22 from this article in pdf format. You can download the 12th HSC reduced syllabus 2021-22 pdf by the below-given direct link.
Reduced Syllabus of SP Class 12
You can download a PDF file of the reduced syllabus of the SP (Secretarial Practice) from the link given below.
Reduced Syllabus of Class 12 Maharashtra Board PDF
The deleted topics from the Class 12 Maharashtra HSC Syllabus 2021 Deleted Topics are given below.
Maharashtra Board reduced the syllabus of SP, but students must understand those concepts for a better future in the commerce stream.
Check out other posts related to 12th Commerce
| | |
| --- | --- |
| Textbook Solutions of 12th Commerce (All Subjects) | Click Here |
| Free pdf of 12th Commerce Textbooks | Click Here |
| 12th Commerce IT MCQ Preparation (Online Test) | Click Here |
| 12th Commerce Paper Pattern and Chapter Wise Marks Distribution | Click Here |
| Sample Paper of 12th Commerce for Practice | Click Here |
| Solved Sample papers of 12th Commerce to improve Paper Presentation | Click Here |
A study plan is made from an exam point of view but students should learn and understand all the topics.

Reduced Syllabus of Class 12 Commerce
Economics : https://scholarsclasses.com/blog/reduced-syllabus-of-economics-12th-commerce-maharashtra-board-2020-21-scholarszilla/
OCM: https://scholarsclasses.com/blog/reduced-syllabus-of-ocm-for-12th-commerce-maharashtra-board/
Accounts: https://scholarsclasses.com/blog/reduced-syllabus-of-accounts-12th-commerce-maharashtra-board-new-paper-pattern-complete-detail/
SP: https://scholarsclasses.com/blog/reduced-syllabus-of-sp-class-12-12th-commerce-maharashtra-board-2020-21-scholarszilla/
Information Technology Lectures 👉 https://www.youtube.com/playlist?list=PLGiOLU46prNe6tQIJakepd3uGvatQyBUe
🔗 Share our videos and channel with your friends, help us in growing this channel ❤
Learn Chapters of Accounts from our playlist.
ISSUE OF SHARES👉 https://rb.gy/c9pmbq
BILLS OF EXCHANGE 👉 https://rb.gy/3f7zhl
DISSOLUTION OF PARTNERSHIP FIRM 👉 https://rb.gy/v5flhj
NPO 👉 https://rb.gy/jpjgd8
Analysis of Financial Statement 👉 https://rb.gy/nhy2xy
New Paper Pattern of Class 12 Commerce Maharashtra Board From 2021-22
https://scholarsclasses.com/blog/wp-admin/post.php?post=460&action=edit